Artificial Intelligence Litigation Risks for the Medical Technology Industry
While the world is abuzz about artificial intelligence and the advances it will provide in the medical technology space, it is important to realize that along with the advances come risks—including litigation risks. There are numerous legal claims that have already started to piggyback on the growing adoption of artificial intelligence. In this hour-long talk, we will discuss the AI-related claims that are most likely to affect the medtech industry, including breach of confidentiality provisions, breach of contract, data privacy statutory violations, trade secret misappropriation, copyright infringement, unfair and deceptive trade practices, and negligence and/or products liability claims.
On-demand Chapters:

00:00 - Introduction of the Presenters
04:12 - What is Artificial Intelligence (AI)
08:11 - How is AI used in the MedTech Industry
16:25 - Regulation of AI
20:13 - Overview of AI Litigation Risks
35:12 - Examples of Claims for AI-Related MedTech Litigation Overview
37:52 - Breach of Contract Litigation
40:37 - Copyright Infringement Litigation
42:24 - Patent Infringement Litigation
43:50 - Unfair Competition Litigation
44:55 - Data Privacy and Security Litigation
57:01 - Trade Secret Misappropriation Litigation
58:35 - Tort Litigation
59:57 - Closing
Presenters
Jenny Colgate is an experienced litigator, a creative strategist, a trusted advisor, a thought leader, and an extremely hard worker. Her practice is largely focused on litigation and extends into all facets of intellectual property and technology-related matters, including patent, trade secret, data protection, unfair competition, trademark, copyright, breach of contract, and fraud claims. In addition to litigation, Jenny regularly handles a wide range of other legal matters for clients. She's skilled at pre-litigation risk evaluation and strategy, and counsels clients on IP protection and enforcement as well as privacy law compliance and best practices. Jenny also advises clients in contract and licensing matters, such as negotiation, drafting, IP and privacy issues, and dispute resolution. Finally, she's a recognized thought leader, authoring expert analyses, speaking on panels and webinars on topics as diverse as developing IP issues, litigation strategy, damages and remedies, and privacy. Jenny has a B..A from University of Pennsylvania (summa cum laude, with honors), an L.L.M. in intellectual property from University of New Hampshire Franklin Pierce Law center (magna cum laude), and a J.D. from University of New Hampshire Franklin Pierce Law Center (magna cum laude).
As a highly skilled strategist and thought leader, Jennifer Maisel ("Jen") focuses her practice in an exceptionally challenging area of intellectual property law and litigation concerning rapidly-evolving digital technologies with a focus on artificial intelligence (AI). Jen has technical experience developing language models for natural language processing applications, and has been helping clients navigate through their IP, data protection, and privacy concerns in the AI space. For large corporations and emerging companies, Jen also routinely represents clients with breakthrough innovations in virtual reality, big data, the Internet of Things, privacy, cybersecurity, quantum, and blockchain technologies. Jen has represented dozens of clients in intellectual property litigations in district courts throughout the country and at the appellate level before the U.S. Court of Appeals for the Federal Circuit and the U.S. Supreme Court. Jen counsels clients in a wide variety of industries on identifying, procuring, and licensing valuable intellectual property rights, including patents, trade secrets, copyrights, trademarks, data rights, and open source/open data. Jen is registered to practice before the U.S. Patent and Trademark Office (USPTO) and counsels clients as to the scope, validity, and enforceability of rights of existing patents. She has a B.S. in Information Science, Systems, and Technology with a specialization in Operations Research and Information Engineering from Cornell University's College of Engineering (cum laude) and a J.D. from The George Washington University Law School (with honors).
On-Demand Video
Webinar Resources
PDF Presentation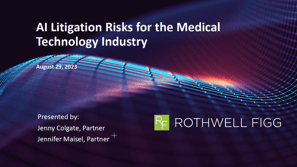 Webinar Summary with Chapter Hyperlinks