Managing Risks through IP Innovation Management Training
A recent survey of 1,500 global innovation executives revealed that innovation management continues to be a top priority. IP Innovation Management Standard 56005 is a global framework that can help companies consistently identify, manage, and mitigate their on-going risks and opportunities related to intellectual property.

In this webinar, you will learn:

• The basics of IP innovation Management and how it can benefit healthcare and life sciences organizations
• How to set-up and deploy an IP innovation management program at your company
• How IP innovation management programs can help insured companies mitigate their risks while identifying and monetizing on-going IP portfolio opportunities
OnDemand Recorded Chapters:
00:00 - Intro About the Speaker James Hastings | Of Counsel | Rothwell Figg
02:40 - Agenda: Why What How
06:46 - Why (Challenge) | Definition, facts, & figures
07:03 - IP Innovation Management
17:44 - Benefits of IP Innovation Management
19:47 - What (Opportunity) | ISO-56005
22:49 - Principles of IP Innovation Management
26:41 - Scope of IP Innovation Management
32:04 - How (Getting There) | Training & Implementation
34:27 - Business, Innovation & IP Strategy Alignment
39:44 - Spotlight: IP Risk Management
46:26 - ISO 56005: IP Innovation Management Next Steps
53:08 - Q&A and Closing

Presenter: James Hastings, Of Counsel, Rothwell Figg

James Hastings is an intellectual property attorney and consultant with more than twenty years of experience representing healthcare, technology, and consumer goods clients. James is a certified Legal Lean Sigma® practitioner and uses the lean six sigma method for IP portfolio management and client advisory services. The Lean Method helps innovative companies deliver value through efficiencies and reducing waste in IP portfolio and risk management processes. James is the editor of the online publication Healthcare Marketing Law and is a presenter at the Third Digital Health Symposium at United Nations General Assembly 78. His commentary on intellectual property and brand protection has been featured in law.com, Bloomberg BNA, and other leading national media outlets.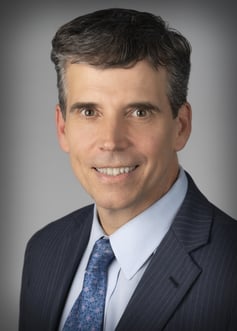 On-Demand Video
Webinar Resources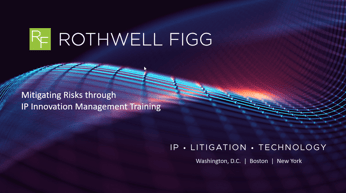 Webinar Summary with Chapter Hyperlinks